How does it work?
We set up your webcast channel on our network, we send you the configuration settings in order to successfully broadcast your ministry, we send you the link to place on your web site or give your visitors in order to access your broadcast media page on our network, and we place links on the media page to allow the viewers to support the network with contributions to pay for the platform supporting your broadcast. We can also place links on your media page to allow viewers the option to give donations to your ministry! The only cost you incur is an annual license fee of $799 USD. It's as simple as that! We are even offering your first year's access license fee for only $599!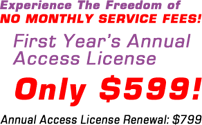 GoodFaithStreaming.com is the perfect solution for ministries who wish to share the good news to a broader audience, reaching those who may not have been reached before. You now have the ability to expand your ministry to reach people by the thousands without bearing the monthly maintenance cost.
The annual license fee is discounted for the first year as an appreciation for your patronage today. After you sign up, the annual renewal rate for your webcast access license will be $799.00 USD. NOW IS THE TIME TO TAKE ADVANTAGE OF THIS OFFER!
What do you need to get started?
Flash Media Encoder [ Free Download - PC | MAC ]
Audio or Video equipment (digital is recommended)
A computer (or a laptop with fire wire or USB)
A high speed Internet connection.
Also any necessary cables to connect all of your equipment.
PLEASE NOTE: Although there is no monthly service fee for this account, bandwidth overages will be billed accordingly. In order to support bandwidth overages in the case that your listening or viewing audience grows, our servers are set to allow for the additional bandwidth needed to transmit data. However, monthly data transfer overages on all accounts are billed at $0.99 per Gigabyte. If the good faith contributions from your ministry supporters exceed bandwidth overage charges, you will not be billed.
Truly Operating On Faith...
We believe that supporters of your outreach will support the broadcast of your ministry to the world, which further helps you to perform the great commission to preach and teach the Gospel to all the inhabited earth. This tool for ministry does not come with a monthly fee to you like most webcasting services, and we are believing by faith that those who view the network and believe in it will support it in order to keep it that way. It is not required that viewers of your network contribute anything at all to support it. Again, we just believe by faith that they will.
Their support will also allow us, as a company, to offer more services to you at no cost as well as expand the network to include more features and ministry tools that you can utilize, because as you probably can imagine, there is a substantial cost to run and maintain your broadcast network on a continual basis. Additionally, after your supporters have contributed $300.00 USD within a month's cycle, we will sow 50% of future contributions we receive in that same month's cycle back into your ministry! The account offered as a Good Faith Streaming account is the Audio/Video 250 Webcast, which supports 250GB of Monthly Data Transfer and 1GB of Data Storage.
If you are ready to set up your Good Faith ministry channel, visit our sign-up page to get started.
GoodFaithStreaming.com
Your broadcast channel can even be live by tomorrow! Sign-up Today!
Do you need more options?